October 15, 2018
Posted by:

Coinvasity

Category:

Bitcoin, News
China holds more influence over Bitcoin than many are ready to admit, which could damage the whole network, a new study shows. The country "threatens the security, stability, and viability of Bitcoin" with its "political and economic control over domestic [cryptocurrency] activity, and control over its internet infrastructure," shows the study from Princeton and Florida International Universities.
The research paper, titled The Looming Threat of China: An Analysis of Chinese Influence on Bitcoin, goes on to explain: "As the value and economic utility of Bitcoin have grown, so has the incentive to attack it. We singled out China for analysis because they are the most powerful potential adversary to Bitcoin, and we found that they have a variety of salient motives for attacking the system and a number of mature capabilities, both regulatory and technical, to carry out those attacks."
The Bitcoin mining system is "heavily centralized," the study goes on to say, as "over 80% of Bitcoin mining is performed by six mining pools," with five of those managed directly by individuals or companies based in China. This could make a 51% attack viable, as the combined effort of Chinese mining pools accounts for 74% of Bitcoin's hash power (or computing power). "This is a significant share of the global hashrate – more than controlled by any other single country – but the precise quantity is unknown," the study adds.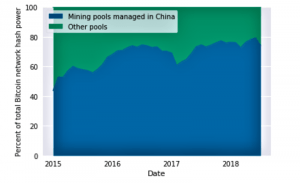 ____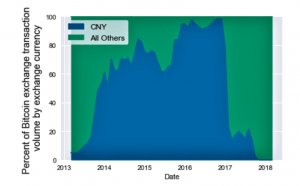 "If the Chinese government assumed control of domestic hash power, this property would grant them an advantage in selecting blocks for the ledger, which is important for some types of attacks." The research defines four attack classes: censorship, deanonymization, weakening consensus, disruption to competing mining operations. In total, the academics identified 19 different attacks currently available to Chinese mining pools.
Ideologically, China might even be incentivized to try to destroy Bitcoin, given its centralized regime of totalitarian communism. Even worse than outright destroying it, China might weaponize its control over Bitcoin in order destabilize foreign economies, the researchers believe.
However, some in the crypto community disagrees. Reddit user u/igadjeed calls the idea of the mining pools banding together to destroy Bitcoin "academic racism," adding: "The fallacy here is - because it happens in China, the Government can control it." They go on to explain, "The blatant fallacy here is - mining pools control miners. There are hundreds of thousands of miners in the 'Chinese' mining pools, and most of them are not in China. If there was authoritarian coercion of pool managers, the miners would most likely abandon those pools. Yes, the concentration of pool managers in China is a centralisation issue. Currently, the pools do not censor which transactions get included in a block, except that transaction fees influence choice of transactions, as they always have [but] mining centralisation issues are mostly mitigated by the fact that miners are independent operators. If a pool becomes corruptly managed, the miners will choose a different pool."
The paper has not yet been peer reviewed, so its findings should be taken with a grain of salt