On the XRP price chart, the next bullish target stands at $1 in a classic pattern known as "double bottom". Why this is such great news is because the success rate of this target for profits is set at 78.55%. Analysis by a technical chart setup shows that Ripple's XRP is likely to smash $1 in the days to come.
This pattern is called the double bottom because the trend reversal indicator pops up when the price does three things:
Bottoms out at a level
Rebounds in the direction of a higher resistance level
Pulls close to or back to the first bottom level
Rebound again to the resistance line or neckline
If the price comes to a close over the neckline, it is expected that there will be additional moves upward. The length of this move will be the same as the total height between the bottom level and the neckline. From what the charts show, XRP is getting, even more, closer to executing the double bottom pattern completely.
Before today, XRP/USD formed its first double bottom pattern a month ago, lying at $0.65 on the 22nd of June. It later singled towards its neckline resistance at $0.75 in rebound only to plunge to the second bottom level at $0.51. This plunge was followed by one more retracement towards the $0.75 resistance. The entire play-out was wrapped up by a breakout.
The implication of this is that XRP has a fair chance of hitting $1 as a test for its profit target with the double bottom target. This notion is backed by research carried out by the Samurai Trading Academy which revealed that double bottom patterns have an incredible 78.55% success rate.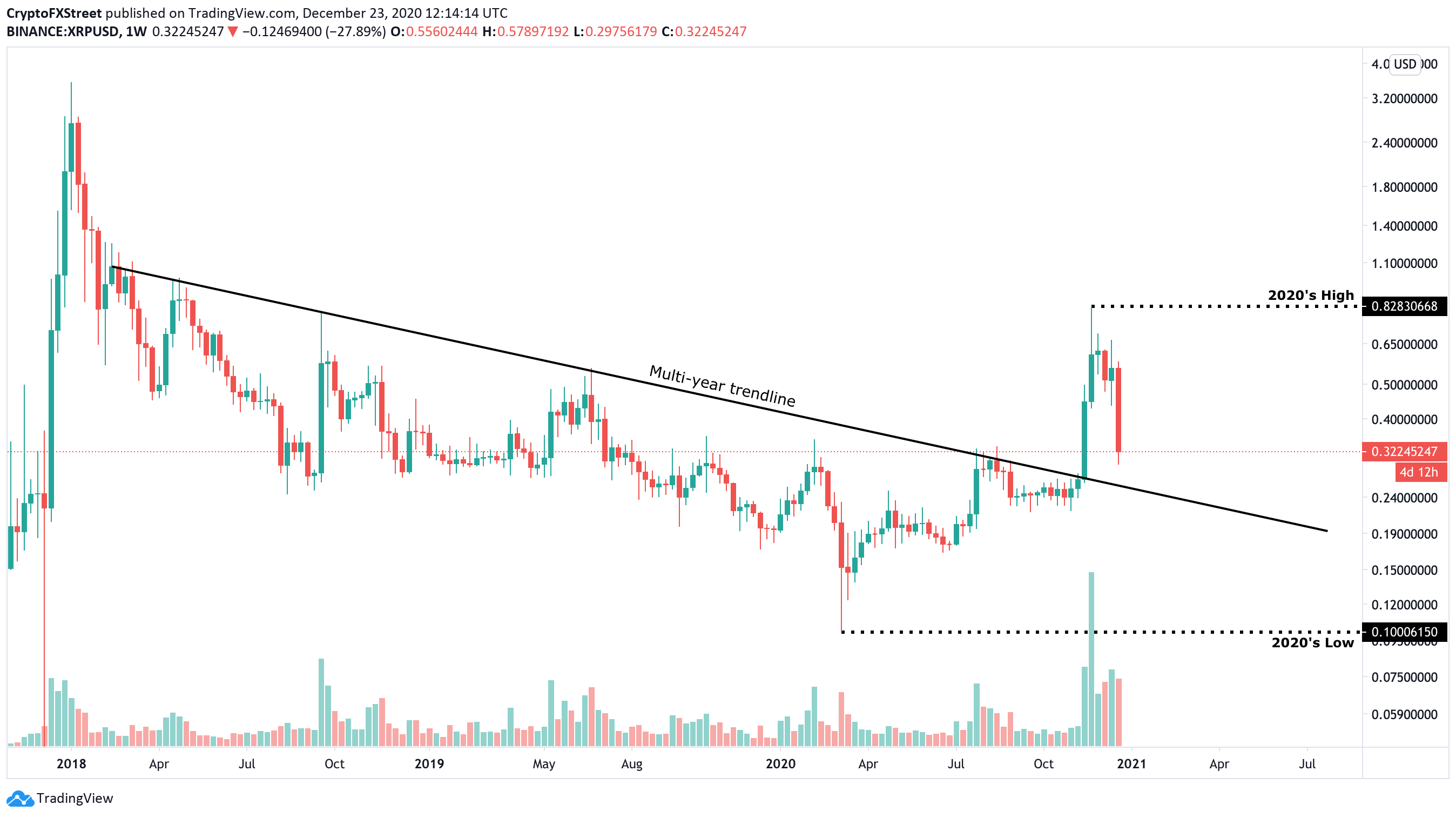 The catch to this is that there have been some interim excessive valuations as observed by XRP's daily relative strength indicator (RSI). Standing at 72.29, readings showed that the relative strength indicator went into the overbought region by two points. This implied an imminent sell-off period.
Worthy of note is a price leap of XRP by 77.39% to $0.91 after an initial drop on July 20 of $0.514. Interestingly, a good number of gains made by XRP were recorded after a market upside rally spearheaded or prompted by the excitement surrounding the new software update of Ethereum.
Significantly, the exchange rate of ETH/USD increased at 89.13% to $3,235 after dipping on the same very same date as XRP on July 20 at $1,718.41. The resultant effect of this was that XRP appeared to be tailing the crypto market trend courtesy of the 0.69 positive correlation efficiency with Ether. This observation was made by Cryptowatch's average data spanning 30 days.
Another factor that has had a considerable impact on XRP is the legal battle between U.S Securities and Exchange Commission and Ripple Lab. In early June, Ripple filed a motion to get the SEC to hand in its internal communications on XRP's competition: ETH & BTC.
Despite the approval of the motion by Netburn, the SEC refused to release the required document. This lawsuit affected XRP's investment prospects by causing XRP's value to drop by nearly 80% in just one month. XRP also suffered delisting on big shot exchanges such as Bitstamp, OKCoin, Coinbase, etc.